As a huge Boyne fan, I wanted to share this exciting news!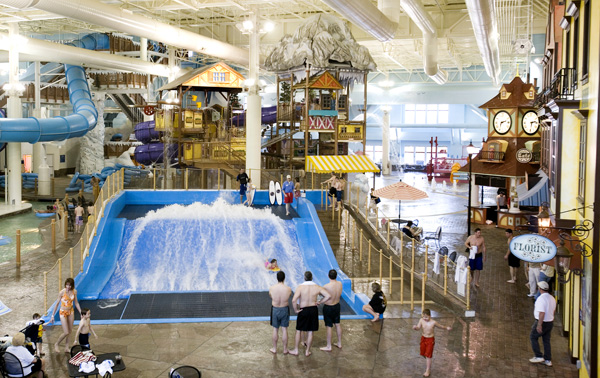 Avalanche Bay Indoor Waterpark, at Boyne Mountain Resort in Michigan, has been heralded as one of "The World's Coolest Indoor Water Parks" by Condé Nast Traveler.  The premier travel magazine featured an elite eight waterparks on their website designating them as the coolest in the world.  Parks were featured from Beijing, Germany, Canada, and the United States.
Avalanche Bay Indoor Waterpark is themed as a snowy Swiss-Austrian Village and maintains a constant temperature of 84 degrees making it the perfect escape for spring break and year-round enjoyment. The 88,000 square foot waterpark boasts aquatic adventures for all ages including five amazing waterslides, Rip Zone surfing wave, four-story mountain water-play structure, shallow children's pool and activity pool, lazy river, relaxing hot tubs, mega-arcade, and pub with food and a full bar.
The park's newest attraction is The Big Couloir, an extreme body slide that's the first of its kind in Michigan.  The ride features a launch capsule with a trapdoor that propels riders at G-force speeds up to 38 feet per second throughout the 360 degree SuperLOOP.
"The recognition that Avalanche Bay continues to receive is a testament to the great experience we offer our guests with the variety of rides and attractions, eateries, arcade, and more," said Ed Grice, president and general manager of Boyne Mountain Resort.  "Add in the four-seasons of fun we offer at Boyne Mountain Resort, and it's a winning combination."
Half- and full-day waterpark passes are available from $22 to $45 and discounts are provided to resort lodging guests.  Spring Break Packages are now available starting at $197 per night for a family of four and includes lodging at Boyne Mountain and Avalanche Bay admission starting at 4pm on day of arrival. A hot and delicious breakfast buffet can be added for only $12 per person.  Ski & Splash Packages are also available with the resort planning to ski and snowboard daily through Easter Sunday, April 20, weather permitting.  For reservations, call 800.462.6963 or visit boynemountain.com.