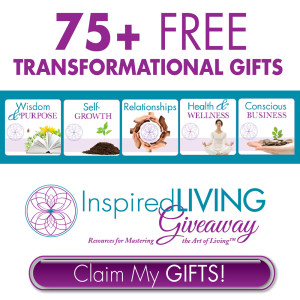 I have some exciting news to share with you today!
My good friend, Publisher Linda Joy of Aspire Magazine just opened the doors to the Inspired Living Giveaway, which is a heart-centered, soul-inspired gift giveaway created to support, empower and inspire WOMEN in thriving in every area of their lives.
This free gift giveaway is a great resource for living in more alignment with your heart and soul. There are free heart-centered e-courses, guided meditations, e-books, audios, videos and supportive tools created by women and for women.
Claim your free soul inspired gifts today > bit.ly/1MR5h8D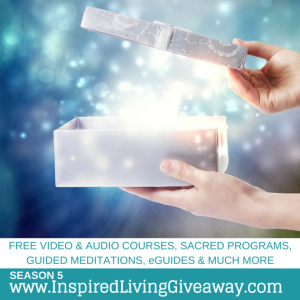 Now through April 21st you can access over 70 high-value transformational resources from a collective of visionary women including gifts like:
Ignite Your Inner Sparkle Guided Meditations
Heal Your Relationship with Money Using Art
Magical Goddess Lifestyle 5 piece Swag Bag
The Sacred Art of Joy Spotting
7 piece Goddess Path to Self-Love and Body-Love Program
5 Steps to Your Passionate Feminine Purpose
6 piece Holistic Practice Building Kit and CD
Conscious Writing 3 part Video Series
7 Day Beating Burnout Transformation
Art for the Heart Mini Retreat
The Purpose and Passion Guidebook
Plus 60+ additional empowering gifts to support you in mastering the art of living.
Register now for 70+ free soul inspired gifts > bit.ly/1MR5h8D