#GlobalMeditationScope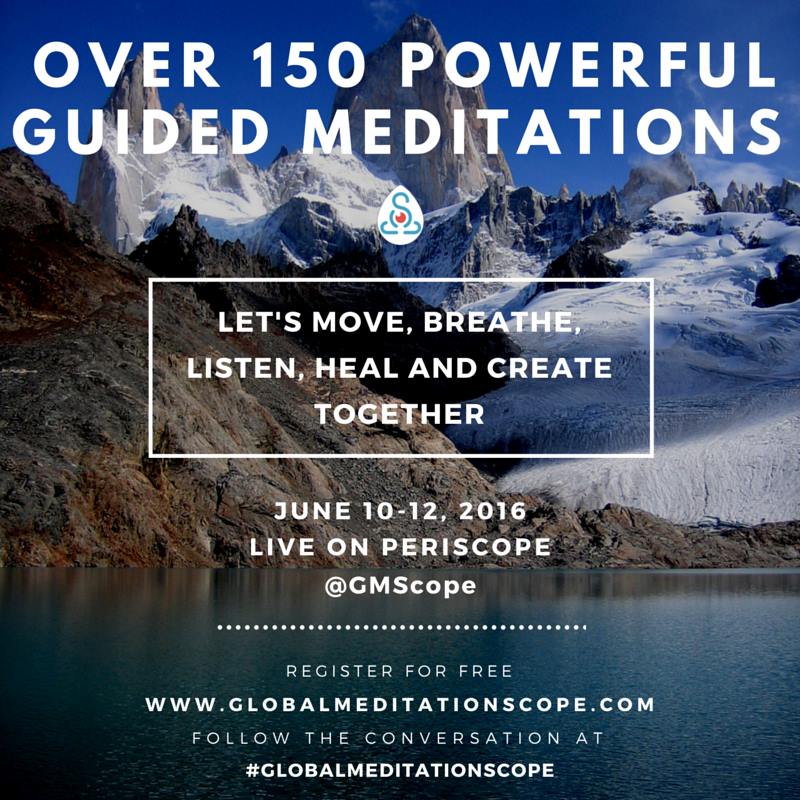 Throughout the month of June, I'll be blogging about the first gate of Soul Alignment Living, which is all about the art of slowing down. And in alignment with this theme, I'm thrilled to invite you to
Global Meditation Scope
– a FREE event on
Periscope
with 150+ guided meditations live-streamed around the globe
June 10-12
.
My meditation scope takes place on Friday, June 10, at 12:30pm ET.
This online event is a collaborative effort brought to you by mindful broadcasters, thought leaders, authors and spiritual teachers working together to bring healing to the world. And our mission is to use Periscope to create healing spaces for people to reconnect with their hearts and access their inner wisdom.
Watch the trailer…
Why meditate with us?
As you know, meditation helps you slow down. It calms the mind, reduces stress, and has been scientifically proven to heal many illnesses. As you may also know, meditation is not just sitting cross-legged and chanting Om.
Meditation can be any activity that helps you find your center. That's why Global Meditation Scope is broadcasting creative meditations under 5 themes:

Global Meditation Scope is making meditation easy and accessible for everyone.