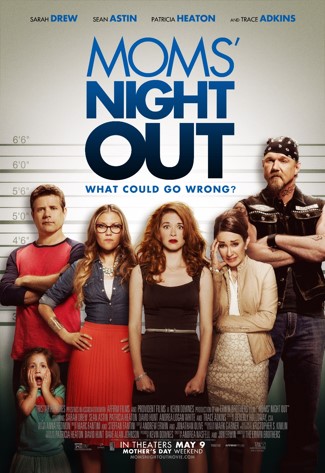 MOMS' NIGHT OUT – a comedy about the chaos of motherhood and life – will be in theaters starting May 9, just in time for Mother's Day.
I had the opportunity to sit down with the Sarah Drew (who portrays Allyson in the movie) and is also a regular cast member on the popular ABC series Grey's Anatomy.
In Moms' Night Out, Allyson and her friends want is a peaceful, grown-up evening of dinner and conversation… a long-needed moms' night out. But to enjoy adult conversation and food not served in a paper bag, they need their husbands to watch the kids for 3 hours—what could go wrong? MOMS' NIGHT OUT is a true-to-life comedy that celebrates the beautiful mess called parenting.
During the interview, Sarah discusses how she finds the meaning, joy, and purpose within the chaos of mothering her son.
Evolving Stacey: Hi Sarah. In the MOMS' NIGHT OUT trailer, Patricia Heaton said "Life is about finding the meaning and joy and the purpose in the chaos," which I agree with. How you find the meaning, joy, and purpose in the midst of your chaos as a mom?
Sarah Drew: Hi Stacey. I think number one, it starts with a really good partner. I have an amazing husband who is very much on my team and there's not a single thing that I do for my son that my husband doesn't also do; we're really great at tag teaming. He's also just a really good grounder in those moments when I feel overwhelmed by work or parenthood or just life in general. He reminds me how loved I am and reminds me to be grateful. Another way to find hope and purpose and meaning in the midst of the chaos is to surround yourself with other moms who are going through the same thing. I have this group of moms that I meet with every other Wednesday night. We go to dinner and it's just a really amazing time to unwind, to laugh and cry, to tell stories about what our kids are doing, how they're making us crazy, how they're so delightful and joyful. It's really great to have an opportunity to feel not quite so alone in the midst of motherhood.
Evolving Stacey: I'm curious how much Me Time you have in your busy life. What you do to recharge?
Sarah Drew:  My Christmas gift from husband this year was a membership to a really fancy movie theater where you can go and recline on chairs and they bring you food and drinks. It's awesome. Sometimes, on a weekend, my husband will encourage me to go see a movie and unwind when my son is down for his nap. I love going to the movies by myself. That has been a really good unwinding situation for me. I also find that sometimes it's really nice to unwind even with my son – like out on a walk, just being quiet and strolling him or watching him delight in the green world around him; that helps to clear my head.
Evolving Stacey: What do you hope moms walk out of the theater thinking about after seeing Mom's Night Out?
Sarah Drew:  My greatest hope is that moms walk out of the theater feeling like the superheroes that they are. I think the role of mother is the greatest undervalued hero position in our world today. I hope moms walk out feeling like they finally got to see a movie that really showed their life – a movie that really gets them. I want them to feel like they're not alone and I hope they feel celebrated.
Evolving Stacey: Based on my understanding, it sounds like the essence of this comedy is to give the truth about motherhood a voice on the big screen.
Sarah Drew: Yes. So many moms at pre-screenings came up to me in tears because they have been crying and laughing hysterically throughout movie… because it's their life. It's their life up on the screen unfolding and they're a hero just because they're a mom, not because of anything else. That, I think, is a really amazing message.
Evolving Stacey: Based on your own motherhood experience, do you have any advice for moms?
Sarah Drew: Trust your gut in terms of the best way to parent your particular child. I think there are so many voices telling you what you should and shouldn't do. We're all trying to do our best. My advice is to celebrate your own particular journey through this crazy ride of motherhood. If your child knows they're loved, you're doing your job. Period. Let go of the need to be perfect and just let yourself BE because you're already doing an amazing job.
Evolving Stacey: Moms need to remember they are enough and are doing enough… just the way you are.
Sarah Drew: Exactly.
Evolving Stacey: Here's my last question. How do you balance work and motherhood?
Sarah Drew: I couldn't balance work and motherhood without my husband. My husband is 100% dad just like I'm 100% mom. I could not be doing this without my husband. Secondly, I'm lucky that Grey's Anatomy has a huge ensemble cast. Because there are so many different story lines happening, I actually get quite a bit of time off, so I get to spend a lot of time at home with my son. I think the 9-5 working moms have it really hard. I think that's really intense. I also think the stay at home moms have it really hard because I find going to work is a lovely break from the craziness of motherhood, so I feel very lucky.
MOMS' NIGHT OUT features Sarah Drew (Allyson), Sean Astin (Sean), Patricia Heaton (Sondra), Trace Adkins (Bones), David Hunt (Cabbie), Andrea Logan White (Izzy), Robert Amaya (Marco), Kevin Downes (Kevin), Alex Kendrick (Ray), Abbie Cobb (Bridget), Harry Shum, Jr (Joey), Anjelah Johnson (Hostess), Manwell Reyes (Desk Guy), Sammi Hanratty (Zoe), Shiloh Nelson (Bailey), and Michael Leone (Brandon). It was directed by Jon Erwin and Andrew Erwin, produced by Kevin Downes, and written by  Andrea Nasfell and Jon Erwin
To learn more about MOMS' NIGHT OUT, visit MomsNightOutMovie.com or Facebook.com/MomsNightOutMovie.