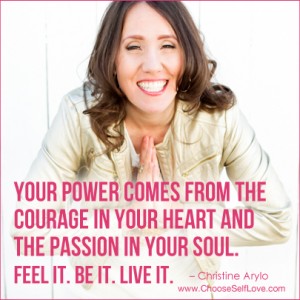 This month in The Love Club, we are focusing on Self Empowerment… and we are starting with where we are giving our power away (what Christine Arylo calls our power leaks).
We all have them. Some may be small, others not-so-small. Do you have the courage to admit where you FEEL powerless?
Admitting you FEEL powerless DOES NOT MEAN YOU ARE POWERLESS.
It may mean you just cannot seem to make the change or take the action you desire to take. Or it may mean you don't even know what your heart and soul truly desire. Maybe you are playing small and not stepping INTO YOUR POWER.
This month in The Love Club, we are gently taking off the band-aids and looking into the shadows to discover 1) where we are feeling powerless, 2) who/what we are giving our power away to, and 3) where we are not stepping into our own power.
THIS IS POWERFUL STUFF!
I'm going public and freeing myself from my power leaks. Want to join me? Let me know where you are giving your power away.
TO NO SURPRISE, here is my first power leak…
I Feel Powerless to Maintain a Healthy Weight.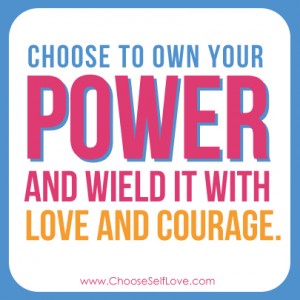 Society/American culture (at large) does not support my health or my ideal healthy weight. Typical American food is killing Americans. American food is creating a culture where people are committing suicide with their forks. We are literally killing ourselves with the fastest and most affordable foods being nutrient-empty and high in fat, wheat, and sugar. And this food crisis is simultaneously happening as our society/America culture ALSO tells us to BE SKINNY! BE HEALTHY! BE ACTIVE!
This is the definition of insanity.
We hear "BE SKINNY! BE HEALTHY! BE ACTIVE!"

Yet we (and our kids) see "JUNK FOOD. SODA. SCREENS." being pushed by the media and lots of brands EVERY SINGLE DAY!
It's truly maddening.
So back to my honesty hearing…
I feel powerless to maintain a healthy weight, while living in this type of culture…
EVEN THOUGH I KNOW
I CAN CHOOSE healthy foods and an active lifestyle.
I CAN CHOOSE to join the subculture of awakened eaters and body movers.
Your turn. Where are your power leaks? Where are you giving your power away?