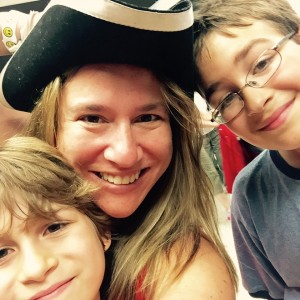 I have decided to spend at least one day a week at the ocean the summer.  Now that I am living in Philadelphia, I think that is a very reasonable intention.  I've spent the last two years here in Philadelphia thinking the ocean was too far away, but really it's only a 90 minute drive.  And the beauty and joy that I will experience, far outweighs the 90 minute drive.
I will also be partnering with Tuckerton Seaport and will be going there with my family throughout the summer.  We went there once last year, and just loved it.
Why I love visiting Tuckerton Seaport with my family…
My kids forget about being on screens because they are having so much fun exploring and being outside.
Exploring the boardwalk.
Walking the nature trail through the Maritime forest.
Demonstrations and tours.
Being near the water.
Festivals.
Tuckerton Seaport is a great year round family destination to enjoy all things maritime! It is truly a one-of-a-kind attraction on the Jersey Shore that brings authentic traditions from the past to life through people, demonstrations, exhibits and hands-on activities.
Here's a video I made during our last visit…


To plan your visit and learn about upcoming festivals, go to TuckertonSeaport.org.
xo
Stacey
Disclosure: I am a Tuckerton Seaport blog ambassador and my opinions are 100% my own.