Taste What Makes Whole Foods Market Unique! Live Cooking Demonstrations and Free Samples!

This Saturday, I'm heading to Whole Foods Market in Wynnewood, PA to get inspired and sample new foods that I can add to my healthy and holistic eating family menu planning.
Every Saturday in May, Whole Foods Market will have exciting (and yummy) live cooking demonstrations featuring Whole Foods Market private label brands, unique products for foodies, products from local suppliers, and take-and-go products that are made fresh in their own kitchens.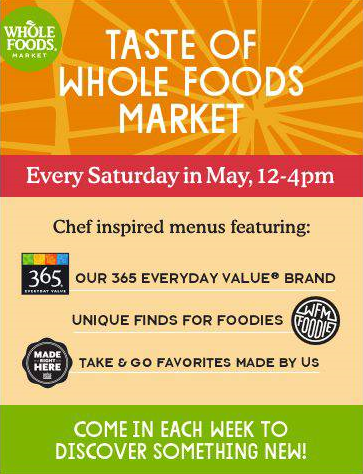 This is going to be so helpful for me! As a mom who desires to eat clean, natural, and sustainable food, I need this kind of inspiration. Cooking and meal planning doesn't come natural for me, so I'm super grateful to be learning for the experts at Whole Foods.
A new menu filled with snacks, appetizers, side dishes, brunch specials, and beverages will be created each Saturday for tasting. So visit each Saturday to discover something new.
Taste of Whole Foods Market will take place every Saturday in May from 12pm to 4pm.

Everyone Saturday will have a different theme with different chef inspired foods to sample.
May 7 – Celebrate Mom
May 14 – It's a Graduation Party
May 21 – Summer Entertaining Made Easy
May 28 – Get Your Grill On – It's Memorial Day Weekend!
---
And be sure to snap a photo of what you tasted and share it using the hashtag #TasteofWFM. I'll be watching this hashtag all month to find more and more inspired ideas!