If you are planning a family road trip to Vermont, New Hampshire, or Maine, you'll find our New England family vacation recommendations across multiple blog posts (Burlington Vermont, Smugglers' Notch). Today I'm sharing our mountain living experience at Waterville Valley Resort in New Hampshire's White Mountains.
Waterville Valley Resort
Days 8 – 11 of our 18 day New England family road trip where spent at Waterville Valley Resort, surrounded by New Hampshire's White Mountains. This is the perfect location if you're looking to enjoy the outdoors while slowing down from your everyday busy life.
As soon as we arrived, we immediately fell in love with this quiet cozy community. And that was before we discovered the Freedom Pass!
OMG! The Waterville Valley Freedom Pass is Amazing!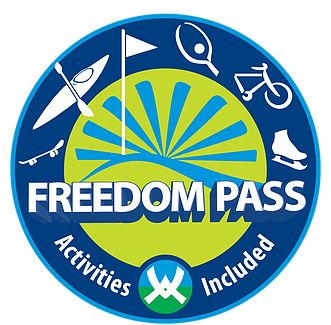 When you book a room at any of the participating Freedom Pass hotels, each member of your family receives FREE golf, tennis, bike rentals, ice skating, chair lift rides, swimming, canoe/kayak/pedal boat/paddle board rentals and more! There were so many free activities offered that we didn't have time to try them all.
Plus, with the Freedom Pass, you have access to the White Mountain Athletic Club's indoor and outdoor pools, hot tubs, saunas, steam rooms, indoor jogging track, and strength & cardio centers…AND access to Waterville Valley Resort's Recreation Department gym programs… AND access to the Curious George Cottage. Your options for free, fun and relaxing activities are truly endless.
Here's how we spent 3 days at Waterville Valley Resort.
DAY ONE

CHAIRLIFT AND HIKING: After we settled into our room at the Black Bear Lodge, we grabbed our Freedom Pass and headed up Snow Mountain's chairlift for a quick hike to Cascade Falls before eating dinner at Mulligans. The 360-degree views from the top of Snow Mountain were spectacular. I forgot just how much I miss being in the mountains. We only had time for a short hike, but from the top of this chairlift there are many biking and hiking trails (both challenging and family friendly) to explore through the White Mountain National Forest. There are actually 100 miles of biking and hiking trails in the Waterville Valley area.
DINNER: From the bottom of the chairlift, we hopped onto the resort's complementary open air trolley and headed over to Town Square for dinner. Mulligans Tap Room & Eatery is very family friendly. Not only did they have many options for my kids, they also had family friendly games for us to play while we were waiting for our food. If possible, I recommend sitting outside so you can enjoy the views of Corcoran Pond.
After dinner, we strolled around the pond (while my boys played Pokémon Go) and then we went back to Black Bear Lodge to enjoy the cozy living space (which was perfect after 7 days of camping).
DAY TWO
GOLFING: My youngest son got to choose the first activity of the day, which was swinging golf clubs at the driving range (the Freedom Pass includes one free bucket of balls per person). I don't think any of us can really golf, so the driving range was the best option for my family.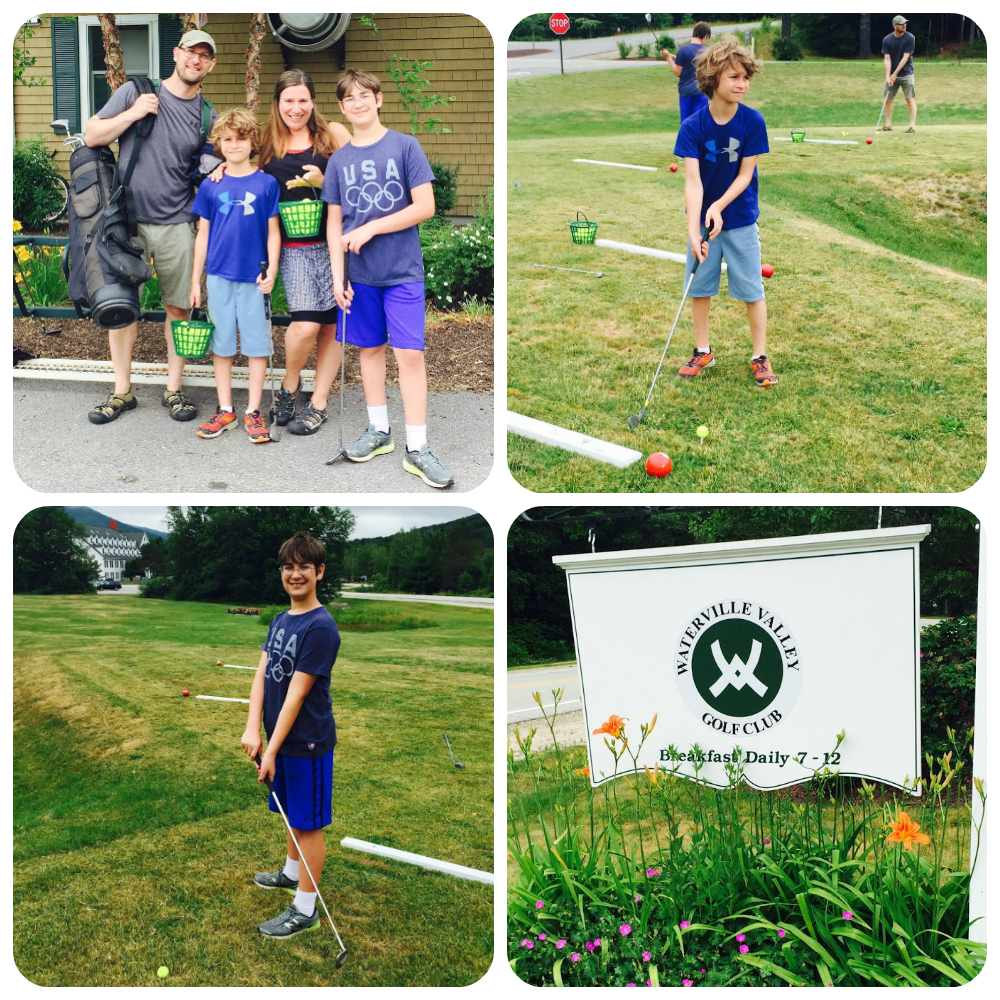 SWIMMING: My oldest son picked our next activity, which was swimming in the Black Bear Lodge's indoor/outdoor pool.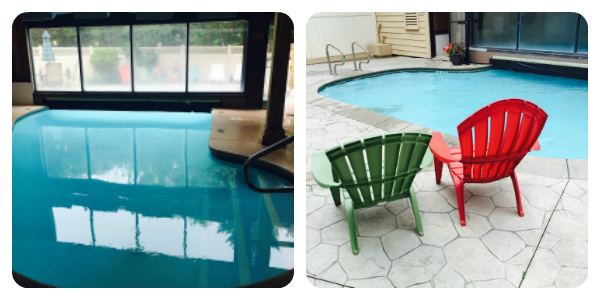 SHOPPING IN TOWN SQUARE: I was not in the mood for swimming, so I grabbed some kid-free ME TIME by walking around Town Square. While walking around, I was amazed at all of the additional events happening at the resort. There were signs for free Shakespeare productions, nature, animal and science center activities, and other summer events such as the independence day family carnival, the artisan fair, chocolate fest, and more. The list really goes on and on and on!
There are many cute stores in Town Square, but I have to say my favorite store is Dreams & Visions Gift Shop, which is filled with beautiful pottery, candles, jewelry, skin care products, New England made products, and everything my inner child could need to create a fairy garden.
FAIRY GARDENS: Oh Yes! Dreams and Visions has a huge selection of fairy garden accessories. Every day, I walked in and out of that store looking at the fairy gardens… and finally, on the last day, I purchased a few items to create my own fairy garden!  It's little things, like my new fairy garden, that make me happy… when the rest of the world feels chaotic.

BOAT RENTALS: Our Freedom Passes included 1-hour boat access (each day) on the Corcoran Pond. So after lunch, we unplugged on the pond kayaking, paddle boarding and pedal boating. Being on the water, surrounded by mountains, was so relaxing. We sang, played silly games, looked for wildlife, and just soaked up nature's beauty.

DINNER: For dinner we went to The Valley Pub & Grill, which is also very family friendly. This restaurant is located on the second floor, with large open windows, which gave us great views of Corcoran Pond while also allowing us to hear to live folk music that was being played in the Town Square courtyard.


DAY THREE

HIKING OSCEOLA MOUNTAIN: Because the weather report predicted rain in the afternoon, we woke up early and headed to the Mt. Osceola trail head, located at the Tripoli Road parking area. Mount Osceola (4,340′) is the highest peak in the Waterville Valley Region.
If you and your family like rock-hopping as much as my boys do, then you will love this trail. After a few minutes on flat terrain, this trail becomes exceptionally rocky. With many boulders to climb over, our hike turned into a rock-hopping adventure. My kids loved it. Unfortunately, because the rocks could become slippery when wet, we had to turn around before reaching the summit.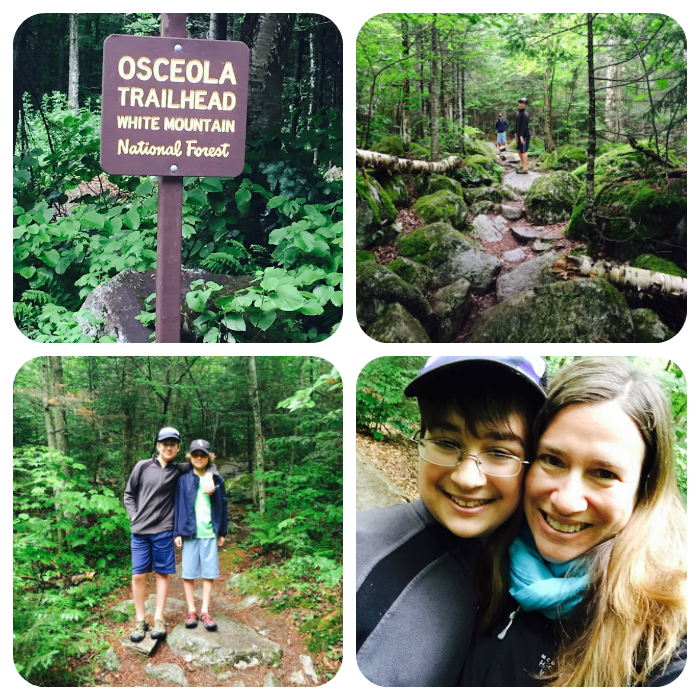 CURIOUS GEORGE COTTAGE: Margret and H.A. Rey, authors of the Curious George children's book series, used to spend their summer in Waterville Valley, New Hampshire. In their honor, there is now Curious George Cottage, otherwise known as the Margret and H.A. Rey Center, which is a nonprofit organization dedicated to honoring the Reys' spirit of curiosity and discovery by increasing understanding and participation in art, science, and nature through programs for youth, adults and families.
After lunch (and a few hours after the rain) we checked out this adorable cottage. It was a quick visit but a must see for anyone who ever loved Curious George (I think that covers just about everyone who has ever read a Curious George book).

Since it was raining after our visit to the Curious George Cottage, we spent the evening eating dinner in our room and watching a movie with the kids.
I would strongly recommend the Black Bear Lodge and Waterville Valley Resort for your next family vacation. We thought this would be a once in a lifetime experience, and now that we've been there, we will definitely be back!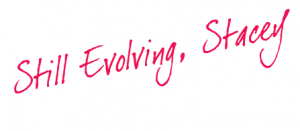 Disclosure: For the purpose of writing this blog post, my family received complimentary lodging, dining experiences and Freedom Passes. Opinions are 100% my own.