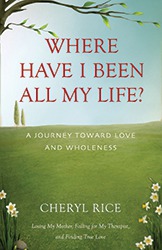 Earlier this year, TLC Book Tours invited me review Cheryl Rice's book Where Have I Been All My Life? A Journey Toward Love and Wholeness.
Considering I'm on my own spiritual path, I couldn't say no. The book arrived at my house, I placed it next to my bed for some optimistic bedtime reading… but life happened and I never found the time to read this book.
Where have I been all my life? This question danced around me when I looked at my nightstand.
"I really need to read this book"… I kept telling myself. But like I said before, life got busy.
And then last night, like a brick being dropped on my head, I looked at the book and started laughing out loud.
Where have I been all my life? I've been too busy chasing my goals, striving to succeed, scoping out my next mountain to climb. I've been running around like a chicken.
So this morning, I finally carved out time to slow down and pick up Cheryl Rice's book.
Where Have I Been All My Life? is a compelling memoir recounting one woman's journey through grief and a profound feeling of unworthiness to wholeness and healing. It begins with the chillingly sudden death of Rice's mother, and is followed by her foray into the center of mourning. With wisdom, grace, and humor, Rice recounts the grief games she plays in an effort to resurrect her mother; her efforts to get her therapist, who she falls desperately in love with, to run away with her; and the transformation of her husband from fantasy man to ordinary guy to superhero. In the process, she experiences aching revelations about her family and her past—and realizes what she must leave behind, and what she can carry forward with her.
I love this powerful idea of choosing what we want to leave behind (old stories that no longer serve us, heartache, fear) and what we want to bring with us as we move forward on our journey. I could truly resonate with Cheryl, because sometimes, the things I really want to leave behind are sometimes the hardest things for me to let go of.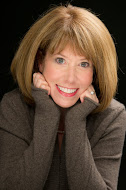 Cheryl Rice is a professional speaker and coach. Her company, Your Voice Your Vision partners with women striving to be leaders in their own lives. When Cheryl decided to take the advice she so passionately offers her clients, she emerged with this memoir.
Cheryl Rice's native language is a language of the heart – feminine, emotional, holistic, and personal. OMG – this is my favorite language of all. Even better, while writing this blog post, I've discovered she also lives just outside of Philadelphia.
So first, I need to apologize to her for my blog post being so behind schedule. And then… I want to invite her to join me for cup of coffee.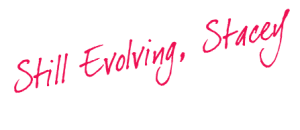 Disclaimer: I received a copy of this book to review. Opinions are 100% my own.