Zanshin: Finding the Power Inside Your Decisions – Free Kindle Download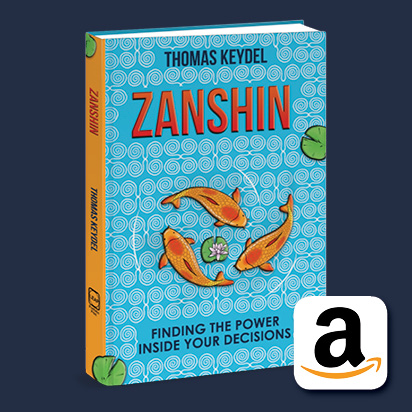 After a long hiatus, I'm now finding time to sink into books again. Since mid-February, I've read Lover Warrior, Harry Potter and the Cursed Child, Mists of Avolon (I'm still reading this), and now Zanshin: Finding the Power Inside Your Decisions, which is filled with insights to make decisions in a "relaxed state of heightened awareness".
Through my personal deepening in ancient divine feminine wisdom, I've been studying and practicing "empty presence" for years. So as I dive into this book, I'm curious how being in a relaxed states of heightened awareness is similar to being in empty presence.
Empty presence is one of those things that is hard to explain. You have to truly experience it or be in the presence of it to fully understand it. I'm thinking this must be true for being in a relaxed state of heightened awareness too. You can try to intellectually define it, but I think it's really something you need to practice and embody… to receive the full gifts and benefits of it.
FREE Kindle version of this book available through March 7th on Amazon.
RECEIVE 5 BONUSES when you download the FREE Kindle version of Zanshin by midnight on March 6, 2017! Bonuses from author Thomas Keydel include a free 30 minute coaching consultation call, tips for making challenging decisions, the Zanshim method guide, and a motivational decision making video.
Click here to download the book and claim your bonuses.
Note: To claim your bonuses, download the free book and then email your Amazon download receipt information to tmkdirect@gmail.com. You must email the receipt by midnight on March 7 to receive this spacial offer.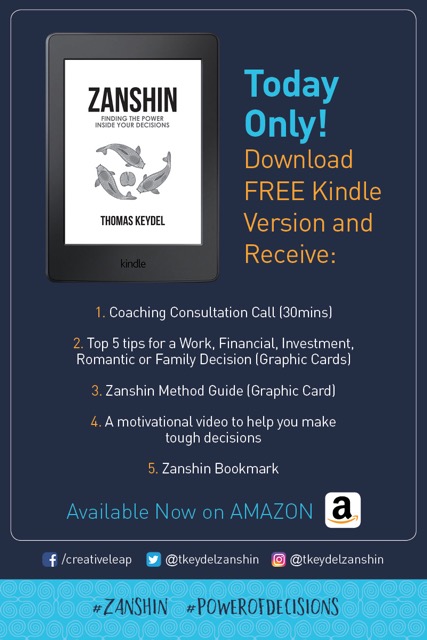 About the Zanshin Book…
We all have moments of indecision. For me, I notice it's the hardest for me to make a decision when I'm in my head… and not in my heart. My heart and inner wisdom always know the next step on my journey. The practice is to remember to slow down so I can tap into this heart-knowing.
In this book, author Tom Keydel shares a Zanshin approach that offers a relaxed state of heightened awareness to help you make decisions. Being Zanshin opens up a middle path that allows you to find the power that is inside your decisions. This is so in alignment with how I live my life… and how I SLOW DOWN and DEEPLY LISTEN to the wisdom that is already inside of me.
In discovering how to make decisions from this place of internal power, you elevate your awareness and free yourself from the pain of indecision. Keydel's message is simple: by becoming Zanshin, you are able to bring forward your best and highest self, and can now contribute to the world in new and greater ways (sounds like the definition of bliss to me).
Head over to Amazon to grab your FREE Kindle version of Zanshin… and together we can deepen and practice the art of the middle path… and the art of BEING in a relaxed state of heightened awareness.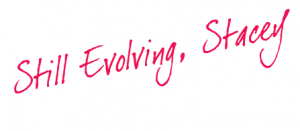 Disclosure: This post has been sponsored by Zanshin. All opinions are 100% my own.